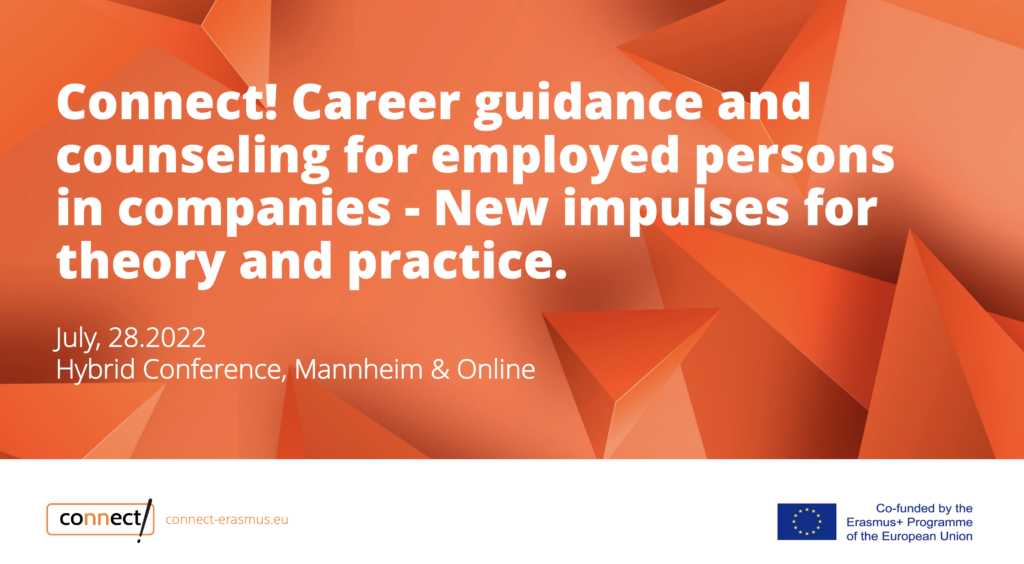 International Conference: Career guidance and counselling for employed persons in companies – new impulses for theory and practice – Save the date!
International Conference 28.7.2022
Hybrid, locally in Mannheim, Germany and online
International speakers from CGC and HRD context
Project results from CONNECT! Project connect-erasmus.eu
In a rapidly changing world of work, in the face of growing challenges in the economy, society and the environment, professional development no longer ends with learning a profession and entering the workforce. From the point of view of companies, there is a need for proactive strategic personnel development, and employees are expected to engage in lifelong professional orientation and learning. At the same time, new opportunities for economic development and personal growth arise for both.
What do we want to achieve? The International Multiplier Event is the final conference and the presentation of our results. We want to reach many experts from Europe and stimulate the discourse on this very relevant topic. We invite you and other experts to participate in the presentations and discussions. A poster session is open also for your contribution around topics like CGC, adult education, VET, HRD and others.
In addition to expert presentations and various examples from the research done within the project, the context of counseling in and near companies, possibilities and limitations will be discussed in a workshop part.
The conference will be held in English. Workshops are also offered in German.
Program 28.07.2022
9.30
Arrival, Reception
10.00
Welcome, agenda of the conference and presentation of the project CONNECT!
Vice director, Prof. Dr. Anne Müller-Osten Prof. Dr. Peter Weber & Prof. Dr. Bettina Siecke

10.15
Professional Career Guidance & Counseling in Companies – drivers and opportunities to Connect HRD and CGC
Prof. Dr. Peter Weber

10.45
The Bigger Picture – Career Guidance & Counseling as Labour Market Instrument within Transition
Ms. Magdalena Burtscher, OECD Keynote

11.30 – 11.50
Coffee break and poster presentation
11.50
Guidance in Communities – reflections and experience (video presentation)
Prof. Dr. Rie Thomsen Keynote

12.20
Piloting the CONNECT! course: Results and reflections form the Italian experience
Prof. Lea Ferrari & Prof. Teresa Maria Sgaramella

12.40
Lunchbreak

13.40
Basic Results from the project: The CONNECT! Curricula
Prof. Bettina Siecke, Dr. Matthias Zick Varul

14.10
Parallel-Workshops

Deeper look into the CONNECT! Curriculum – Content and didactical elements
Lea Ferrari and Teresa Maria Sgaramella (English) (also online)

Intersections and differences between CGC and HRD – status and the way forward
Matthias Zick-Varul and Peter Weber (English)

Qualifizierungsberatung im Betrieb – Ansätze und Erfahrungen
Bettina Siecke (German) (also online)

Erfahrungen mit dem CONNECT! Training in der Universität für Weiterbildung Krems
Monika Petermandl and Edmund Panzerböck (German) (also online)

Trends and trend-analyzes in the HRD field
Alexandra Djurovic and Jan Waldendorp (English)

Developing the Organizations – Approaches and experience
Anna Moutsiou (English)

15.45
Coffee break and poster presentation

15.45
Final discussion: Ideas and approaches for vocational guidance in and near companies

16.30
End of the event, farewell, and small talk

Arrival: Information on how to get here can be found on our homepage. http://www.hdba.de/hochschule/profil/studienorte/anreise-mannheim/
The address is:
Hochschule der Bundesagentur für Arbeit
Seckenheimer Landstraße 16
68163 Mannheim
Parking is available at the university (underground car park). By public transport (from the main station walk to the Tatersal stop (3 min) and take line 6 (not 6A!) to the Lucas-Cranach-Strasse stop. From there 5 min walk (see link above).
REGISTRATION: https://forms.gle/BzoCN2NZKbDU9Tjh9
In the Connect! project, we have empirically and conceptually illuminated interfaces and synergies between human resource development and professional career guidance and counselling and, building on this, have developed offers for professional training and continuing education of professional career counselors in and for organizations. Now the project partners want to present the project results to interested parties from practice and research and discuss these with them.
The event will focus on the following questions:
What is the demand for career guidance in and close to companies and what are the drivers behind this demand?
How can career guidance services be successfully designed internally or in cooperation with external actors within the framework of human resources development?
What examples of successful practice of such guidance already exist in companies and how can these be implemented more widely, especially in small and medium-sized enterprises?
How can CGC and HR specialists be trained for the conception and implementation of such consulting services?
Which actors should be involved in the further development of the topic of career guidance in and for companies?
We have speakers from the project and from the field of expertise in Europe. Aside keynotes and presentations we plan workshop to present and discuss the CONNECT! Results, e. g. the Training Units and the IOs. If you like to present a poster about your work, please contact us with a short description. And if you have questions, please write us, too.
Best regards and see you in Mannheim!
Prof. Peter Weber peter.weber@hdba.de,
Prof. Bettina Sicke Bettina.siecke@hdba.de
Dr. Matthias Zick-Varul matthias.varul@hdba.de.
University of Applied Labour Studies Mannheim, Germany www.hdba.de